Our Veterinarians
The Cedarwood Veterinary Clinic team of skilled veterinarians welcomes you to our practice. Proudly serving the Santa Fe area. At Cedarwood Veterinary Clinic, it is our daily privilege to provide quality vet care to your cherished pet, with compassion and competence. We hope to ensure a positive impact on our patients, pet owners and the local community.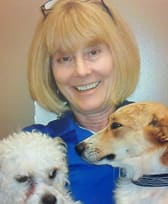 Jean Lauer, DVM
Dr. Lauer has practiced at Cedarwood for many years, starting her career here in 1980. She very much enjoys caring for her patients and interacting with her clients. Her outside interests include travel, hiking, reading, and walking her dogs.
Marcus Martin, DVM
Dr. Marcus Martin received his Doctorate of Veterinary Medicine from Colorado State University in 2012. Immediately following graduation, Dr. Martin took a job in a small town in Southeast Alaska, where he practiced for the next 5 years. He has enjoyed being back in the lower 48 states, especially getting to know the people, places, and pets of Northern New Mexico.
Prior to veterinary school, Dr. Martin worked primarily with wildlife. After his experience in Alaska he began to really value the importance of companion animal care. He believes in the benefits of preventive medicine and strives to help owners make informed decisions regarding their pets' healthcare.
Away from work, Dr. Martin enjoys exploring the outdoors with his wife and young daughter. He also spends time walking his two dogs on the extensive trails surrounding Santa Fe.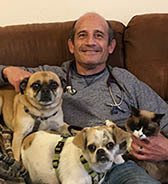 Mark Terry, DVM
Dr. Terry graduated from Colorado State University School of Veterinary Medicine after working in the business world for a number of years. He came to New Mexico for a one-year internship in medicine and surgery, with additional rotations in dentistry, dermatology, and ophthalmology. He is interested in challenging internal medicine cases, dentistry, and soft-tissue surgery, and has a special interest in diagnostic imaging. In his free time he enjoys good coffee, reading, exercise, and functioning as an Associate Editor in Diagnostic Imaging for the Veterinary Information Network (VIN). He currently lives in Santa Fe with his wife (Valerie), cat (Cleo), and ridiculously cute dogs (Sienna and Apache).